On Thursday October 03 2002, ME'D1.ATE launches The.ME.Project (www.MEproject.com) >>a collection of works online by artists from diverse art disciplnes and places. It is a forum to examine ideas about the human experience— investigating who we are, and how we relate to one another and the world around us. more...

COLLECTION-01 features artists from San Francisco, Vancouver, New York City, Montreal, Toronto, and Portugal >>Adriana De Barros, David Crompton & Stereo 8, Randy Lee Cutler, David Khang, Adrienne Lai, Chick Rice, Alan So, Jon Sugar, Caroline Teo, tripDixon, Christopher S. Walsh, Vicki Wong

Celebrate The.ME.Project launch with an eclectic night of aural sets + visual pleasures.

WHERE>

CLOUD 9 MOTEL> info...
34 7TH STREET
(BTW MISSION & MARKET)
SAN FRANCISCO




WHEN>

THURSDAY OCTOBER 03 2002



TIME>

5:00PM TO 10:00 PM PST



COVER>
$5 AT DOOR

Co-Presented by


WITH A SPECIAL SCREENING OF>

THE DISTANCE AFTER by DAVID CROMPTON & STEREO 8
"When they met, they fell in love. When they fell in love, the world fell away". The Distance After is a haunting episode of urban dreaming, drifting past our eyes and ears with elegance quiet intensity. It tells a simple story of a man and a woman who become so entranced as to go days and weeks without sleep, wandering dreamlessly into a state where dream and reality blur...
(Main Lounge: approx 5:45PM) with DJ ROCKET MORTON and tasty treats by chefs Martin and Mike (Farallon, Bizou) before and after the screening.


FEATURING A PERFORMANCE BY>

MINGLE-MANGLE
Electronic artist Mingle-Mangle mixes a fabric of sounds that tempts your body and soothes your soul. His diverse sonic styles merge from cinematic trip hop and ambient drum n bass to heart stopping techno, trance and breakbeat. Escape to this aural adventure as Mingle-Mangle makes a rare live appearance to electrify the dance floor.
(The Basement: approx 9:15PM)
WITH GUEST DJs>
Main Lounge




The Basement
EUG, NEIMAN MARCOS, FREDDY ANZURES (JULIP*WEEKEND)
(jazzy grooves, downtempo, funk, deephouse, nujazz)
MILO (downtempo, eastcoast hiphop) comes out of retirement for The.ME.Project!
ROCKET MORTON (CLOUD9)

AMMON (tribal, afro-latin beats, breaks, progressive house)
ZANGS (26MIX*DJ ATHLETIC CLUB) (trance house)
PLYOMETRICS (26MIX) (exotic drum n bass, breaks, trip hip hop abstracts)
VISUAL DELIGHTS BY>
| | |
| --- | --- |
| | THE DEPT. |

MAP+DIRECTIONS>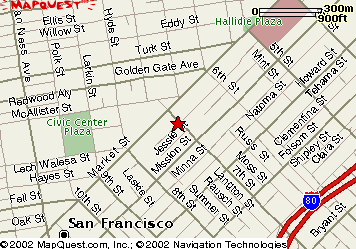 BY CAR:
East Bay (Oakland, Berkeley)
North (Marin, Napa, Saulsalito)
South (San Jose, Palo Alto)

**THERE IS ABUNDANT STREET PARKING AND MANY GARAGES AROUND CLOUD 9 MOTEL


BY BART:
Stop (CIVIC CENTER) walk down Market Street to 7th Street


BY MUNI:
Underground: Stop (CIVIC CENTER) walk down Market Street to 7th Street
Bus: (5-6-7-9-21-66-71) Stop at Market and 7th
Market St Trolley: (F Train) Stop at Market and 7th

**DONATION BOXES WILL BE SET UP AT EVENT TO SUPPORT CURRENT AND FUTURE PROJECTS AND EVENTS PRODUCED BY ME'D1.ATE, SUCH AS THE.ME.PROJECT. AS A NOT-FOR -PROFIT CREATIVE NETWORK COMMITED TO INCITING AND EXPOSING INNOVATIVE IDEAS TO NEW AND DIVERSE AUDIENCES, WE GREATLY APPRECIATE YOUR SUPPORT.